If your home is in need of any electrical repairs or installations, then get in touch right away. Our Durban-based domestic electricians are qualified to carry all electrical services for your property. From large scale installations to maintenance and everyday repairs – we do it all. Get in touch right away and one of our operatives will be happy to discuss the matter.
Rather than fix the problem yourself we advise you to have a fully licensed Durban electrician fix the problem for you. We have specialists for kinds of domestic repair jobs and our staff are fully trained and experienced. Our rates are competitive and we offer free quotes. There's no reason not to call: 031 100 1916
We also advise our customers to have an electrician carry out occasional home maintenance checks, especially if you are looking to rent the house or apartment.
From home-wiring and fault-finding problems to security lighting installations for your residence – we'll be more than happy to help. Whether you need your TV or AC wiring, as Durban's foremost electrical contractors we are more than able to the job properly, on time and for a cheap price. Get it done right first time and you'll reduce the need for another call out, saving you time and money.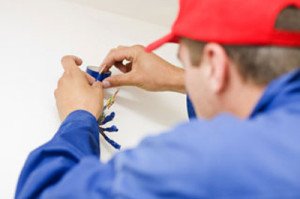 Below is an approximate list of all our residential services. Any questions, just give us a bell!
* Electrical Compliance Safety Certificates
* Fixing plugs, fuses, switches, outlets
* Installing home security lighting and design lighting
* Circuit installations
* Fixing and installing circuit breakers/boxes
* Fault-finding
* Electrical wiring for home
* Air-conditioning wiring/re-wiring
* Security alarm installations
* Cable TV wiring/re-wiring
* Installing/repairing ceiling fans
* Fixture installations
* Recessed and track-lighting installations
* Cabling service upgrades
* General home electrical maintenance
* Repairing outlets
* Repairing switches
* Fixing and installing security systems
* Geyser wiring, installations/repairs
* Repairing/installing motors for pools and spas
* Installing/repairing electric fencing
* 24 hour emergency electrician