Our Pinetown electrical contractors are available for every problem, both for your home or commercial/industrial property. Our team of highly experienced, highly-trained professionals are available night and day, seven days a week. Call now and someone will be over immediately to help!
Whatever your problem, whatever the time, our Pinetown electricians can help. We cover everything from fuse board repairs to light fixture installations; from landlord certificates to electric fencing installations; from basic home wiring to general electrical maintenance. We respond quickly to all inquiries and our vehicles come with all the necessary equipment to fix the problem there and then.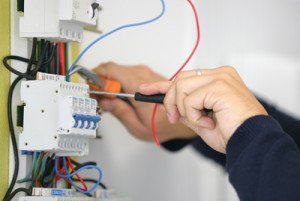 It is important to us that the service we provide is efficient and affordable. Your satisfaction is paramount and we pledge to respect your home and offer a transparent pricing system. We adhere to all South African electrical standards and our quotes are free and come without obligation. So there's every reason to pick up the phone and call us right away.
031 100 1916
Our main services include:
Electrical compliance certificates (Landlord certificates)
Home wiring
Security lighting installations
All electrical repairs
Electrical testing
Fault-finding
Fuse board repairs
Circuit breakers repair
Fixture installations
Emergency electrician in Pinetown