Do you have an electrical problem in your home, business or office? Well, we can help. Our 24/7 operation means we are on hand whenever and wherever you might need us. Help is only a phone call away. For the best emergency electrician Durban has to offer why not call us now for immediate assistance.
We have ample experience fixing every kind of problem: from blown fuses to power failure; from tripped switches to circuit box repairs. Rather than try and resolve the matter yourself, let one of our master technicians fix it for you. We are specialists in all areas of electrical repairs. Call us right away and get the advice of expert: 031 100 1916.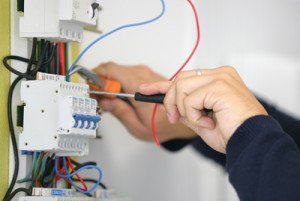 Whatever the time – whether early in the day or late at night – one of our specialists is on call waiting to assist you. With technicians located all across Durban – and with our thorough knowledge of the city and its suburbs – we're able to reach you quickly. And with our experience and advanced tools, we can repair your problem with a minimum of fuss. That's why we are the best Durban emergency electricians we like to think we are among the top players in the industry and the first choice in case of any electrical crisis.
With a varied client list – from homes to industries, banks and hotels – we have proven ourselves as the leaders in the industry. With specialists trained in every area of electrical repair there's not an issue we cannot solve. And with our fully equipped vans we come prepared for every eventuality so the work is done as quickly and painlessly as possible. To avoid unnecessary delays, it's best to use Durban's no.1 electrical repair company. Call now: 031 100 1916.
Why Are we the Best? 
• On call 24/7 – whatever the whether!
• Familiar with Durban and outer areas.
• Competitively priced!
• Clear and honest pricing
• Experienced in all kinds of electrical repair
• Equipped for any eventuality
If you're looking for the best emergency electrical service in Durban, call us now on: 031 100 1916